everybody loves somebody says one song,  and what becomes of the broken hearted asks another.
one of the latter made this music compilation as the flight went down.
RE

C

OVER

ED

BLACK

BO

X
song cycle


• cover art & compilation by ale

Xander hirka

•


Good Friday

through

April Fools Day

2005



01 For No One – The Beatles

02 Either Side Of The Same Town – Elvis Costello
03 Superhero – Ani DiFranco
04 Reason To Cry – Lucinda Williams
05 Love Hurts – Gram Parsons & Emmy Lou Harris
06 My World Is Empty Without You – Diana Ross & The Supremes
07 Are You Lonesome Tonight? – Elvis Presley
08 Standing In The Doorway – Bob Dylan
09 I Fall To Pieces – Patsy Cline
10 Since I Don't Have You – The Skyliners
11 End Of The World – Skeeter Davis
12 I'm Through With Love – Marilyn Monroe
13 Untouchable Face – Ani DiFranco
14 Bye Bye Love – Everly Brothers
15 You're Breaking My Heart – Harry Nilsson
16 Why Do Lovers Break Each Others Hearts? – Bob B. Soxx and the Blue Jeans
17 Only The Lonely – Roy Orbison
18 I Can't Cry Hard Enough – Mervin The Mandolin Man
19 After You're Gone – Iris DeMent
20 Yesterday – Ray Charles
21 You And Me (We Wanted It All) – Frank Sinatra
22 Love Sick – Bob Dylan
23 Somebody Stole My Gal – Mel Blanc
•
Outtake not included on CD.
"(They Aughta Put A ) Warning Label (On You)"


Lexas Tumblweeed and the Psychic Duststorm



click to play

This cyber-hip-hop country-break-up song was downloaded into the Blue Heart Saloon on 21 April 2005.
vocal synthesizing by Agnes X Panther

•


Lyrics:
You've been tested in the market for decades,
Your effects on hearts is well known.
And somehow your medicine stays legal,
Though the victims are scraped to the bone.
chorus:
In the interests of those buying your medicine,
I think they oughta put a warning label on you.
Data spoke of internal combustions,
People's insides spilled out on the floor.
Reports of heart damage irreversible,
And effects on tear-ducts by the score.
chorus
When it's working the effects are addicting,
A state of euphoria is guaranteed.
But when withdrawal rounds the inevitable corner,
It's like a rug pulled from under your feet.
chorus
I signed myself in for rehabilitation
'Cause like a monkey you crawled on my back
They say there are signs of recovery
And writing songs will keep me on track
chorus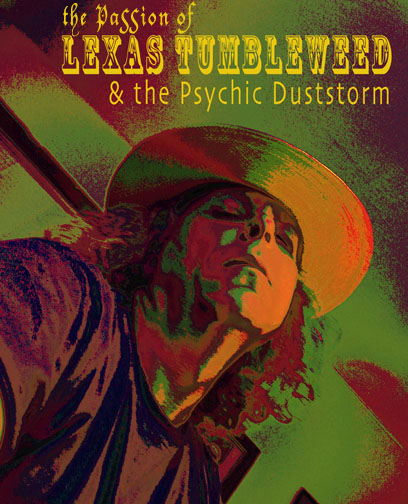 Click HERE to go to AleXander's CD Compliations page.